Happy March, all! I can't wait for spring to come! Looking forward to the sound of birds chirping and long runs outside!
Yesterday, I got the news from
A Peach For The Teach
that I was nominated for the Liebster Award! The Liebster award is a way to recognize new bloggers who have less than 200 followers. I had a new blog designed for me in February 2014 and so far I have 23 followers. With a new dedication to blogging, I'm hoping that changes soon :).
So, a big thanks to A Peach For the Teach for nominating me!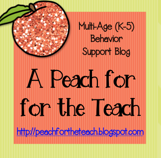 Here are the rules that were given to me by A Peach for the Teach:
#1- Link back to the blog that nominated me.
#2- Nominate 5-11 blogs with fewer than 200 followers.
#3- Answer the questions posted to me by my nominator.
#4- Share 11 random facts about me
#1- I live in a small town in PA. In fact, it's the only town in PA. Well, the only official town in PA!

#2- I must travel 45 minutes for any decent shopping! Thank goodness for online shopping!!


#3- Before I moved to PA and graduated HS in PA, I grew up in Long Island NY and went to the same HS as Natalie Portman!


#4- I LOVE chocolate. I must have it in one form or another everyday. I wish I didn't b/c my metabolism isn't what it used to be- ha!


#5- I am a saver not a spender. Everything I buy must be on sale!


#6- Before I bought my house, I traveled the world. My favorite place being Australia!


#7- If somebody told me I had to move to Australia, I'd pack my bags ASAP- I LOVE it there!


#8- When I flew from NY to LA to catch my plane to Australia, I was on the same plane at Jessica Biel and she looked straight at me as I was headed to coach and she was seated in first class, of course! lol


#9- I am a HUGE pet lover! I have two cats of my own. I love dogs, too and visit my parents two dogs regularly.

#10- I am a huge HGTV fan!

#11- People often ask me what I would do for a living if I wasn't a teacher and I really have no idea what that would be?! Teaching is definitely for me!

Answers to Questions Asked of Me
#1- My educational background is both a Bachelor's and Master's degree in Early Childhood/ Elementary Education.
#2- What lead me to start teaching was my love for kids! I grew up babysitting and new that spending time teaching kids was for me! What lead me to blogging was stumbling upon other blogs that I got a ton of neat ideas from. I am hoping to be able to pass along my neat ideas through blogging, as well!
#3- Yes, I have a TPT store, Facebook Page, and Pinterest Page. All of those links can be found by clicking on the flaw at the top of my page! The one thing that I don't have is an Instagram page. Should I? Am I missing out?!
#4- I don't really have an favorite Teaching blogs that I follow. I get a lot of great ideas from blogs that are from top TpT sellers and those that are not. Everybody has great ideas!
#5- My funniest teaching story really isn't a story but an everyday occurrence. Everyday I have students who still say, "Mrs. Wiist, Can I go to the bathroom?" And I'll say, "I don't know, let me call my mom!" The funny part of that is I am Miss Wiist. Both the student and I always giggle :).
#6- My greatest teaching challenge is being on top of things. I seem to have to work with a new curriculum every year in which I need detailed plans for. There are not enough hours in the day!
#7- I always say my best teaching moment comes on the last day of school when I think about how my students look, behave, and grew academically from day 1 to day 180- amazing!
#8- My favorite hobby is running! I was not born to do it but it makes me feel good!
#9- The best speaker I ever heard was a speaker that taught me about APL. APL is a way of teaching. If you never heard of it, look it up!
#10- My favorite teaching resource is TpT, of course! I love to see how other teacher go about teaching skills that I teach. It's the best way I can "enter" a classroom of somebody who lives nowhere near me!
#11- My long-term goal is get my PHD is education. I always wanted to teach at the college level! What has hinder be thus far is a lack of a higher institution in my area that offers such a degree.
I would Like to Nominate!
The following are bloggers that have been kind to me in the Facebook World! :)
Can't Stop Smiling
So sorry that the links are PINK! I'm not a fan of light pink! Don't know how to change! :(
11 Questions For My Nominees
#1- Do you work at a school? If so, tell me about your position there.
#2- Do you have a TpT store? If so, how long have you had one?
#3- If you have a TpT store, tell me about your favorite product you have and why you believe in it so much.
#4- Do you have a Facebook page, a Pinterest account, Instagram?
#5- What is your favorite thing about teaching?
#6- What is your greatest challenge when it comes to teaching?
#7- If you weren't a teacher, what would you be?
#8- What are your hobbies?
#9- If you had one wish, what would it be?
#10- What are your short-term goals?
#11- What are you long-term goals?
Thanks again to A Peach for the Teach for nominating me!
If I nominated you, please refer back to the top of this post for the rules.